FAQs
1,How long will my hair last?
The longevity of your wig primarily depends on the daily and overall care provided to the hair.
Here are some tips for you:

Pre-wash: Before shampooing, gently remove any tangles from your hair products. Always use a mild shampoo or one specifically formulated for chemically treated hair.

Shampoo: Do not soak. soaking might cause the hair to tangle. Once the hair is thoroughly wet, apply a small amount of shampoo; using your fingers, distribute the shampoo evenly throughout the hair.

Wash: Run the hair under warm (not hot) water. Gently work the shampoo into the hair, stroking downwards from the top to the ends. Do not twist, scrub or rub the hair.

Comb: While wet, gently comb the hair to remove tangles. Using a large toothed comb, move in a downward motion away from the clips and to the ends. Do not use a bristle brush on wet hair as it may pull out or break the hair.

Rinse: Rinse the 100 percent human hair wig under a gentle stream of cold water until no shampoo or suds remain. To avoid tangling, ensure the water flows from the cap to the ends of the hair. Remove the excess water by gently blotting with a towel.

Condition: Apply a small amount of conditioner, using your fingers to evenly distribute it throughout the hair.

Dry: Hang to air dry, set in rollers, or use a blow dryer on a low setting, as desired. Your human hair products will not require washing as often as your own hair, wash only when they start to look dull and lifeless.
2,How do i know what size to get?
About Hair Length
About Men Toupee
About Women Wig Customer Order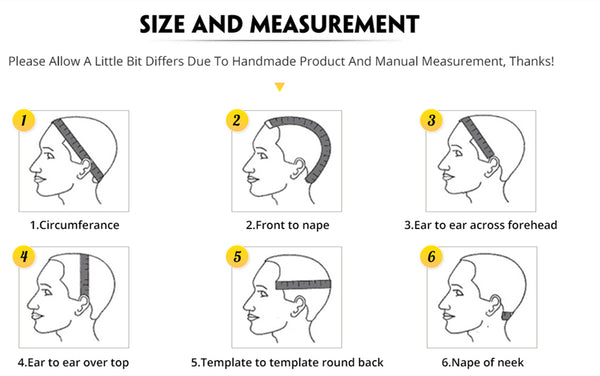 PLEASE NOTE:
This is guide to understand the cap size.
It does not mean that each wig comes in all of these cap sizes.
Sizes will vary slightly due to different types of wigs.
If there are no special requirements, the products are of medium normal size.Customer orders usually take two months to make. According to handmade, the size will have 2~3 cm difference

3,Can I curl or straighten the hair?
You can curl or straighten the human hair products just like your own hair. However, just like our own hair, the less heat you use the better.

4,Can I bleach and dye the hair products by myself?
Human hair products are dyeable. If you try to bleach or dye the alternative hair at home, please be advised that only natural black color can be bleached and one can only make a wig color darker, but not lighter. This is something wigs have in common with human hair. It damages the wig if hair bleach is applied to it just as it damages regular hair. White, platinum blond, or light grey are the best colors with which to begin. Wash the wig to remove any styling products and let it dry for a few days before beginning to dye it.

5,Can I swim or shower with the hair product?
We do not recommend this. It can put too much stress on the hair and create unmanageable tangles. Also, pool chemicals and salt can damage the hair and affect color.

6,How do I change my shipping address?
In the event that you wish to change the shipping address after placing an order, please contact our Customer Service Department at service@luxhairshop.com as early as possible during the order processing stage to indicate your request. If the package has not been dispatched yet, we will be able to ship to the new address. However, if the package has already been shipped, then the shipping information will not be able to be changed while the package is in transit.
7.All wigs have bleached knots or been Pre-plucked?
We can make it but need additional payment for production fee.