The annual black Friday sale is just around the corner and luxhairshop.com is about to have its fourth Black Friday big sale. Over the past three years, we have continued to innovate and strive to bring the best wig to our customers. In the past three years, we have done better and better with the support of our customers, and the activities we have launched have also been well received by customers.
In previous activities, we often used discount codes, which can be used as long as the purchase amount meets the discount amount. Customers can select their favorite products to add to the shopping cart, and the discount code will take effect after the sale starts, and the code will be filled in when paying.

After that sale, many customers reported that it was easy to ignore the code at the time, and if they saw our sale information from various social platforms, it was difficult to find the specific full discount and discount code. We listened to the opinions of our customers, and as an improvement, we adopted the sale of automatic full reduction of products in the second year. As long as the product is in the active category, the discount amount will be automatically deducted when adding to the shopping. All products in this category can enjoy a 50% discount.
This method has been well received by customers. In the later survey, only some customers said that they had several favorite products that were not displayed in the event products.
According to the feedback of customers, we will improve it in subsequent activities, and at the same time, in order to cater to the atmosphere of the market, we will set up a 50% discount for all wigs in the new Black Friday sale. Customers don't have to struggle with which product to choose, nor do they have to worry about forgetting the discount code and discount amount.

In addition to the update and improvement of the event, we also made a huge breakthrough in the update of our products.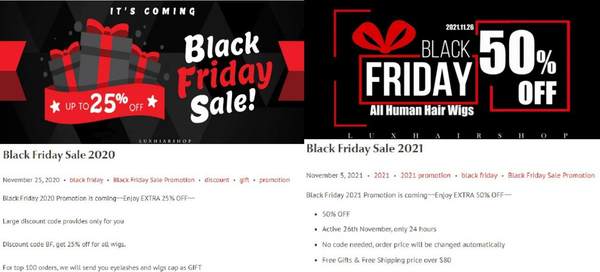 The first is the women wig, we have added a headband wig and a multi-color patch wig. In the past, only wigs of the same color could be made into gradients or highlights. After updating the technology, we can splicing wigs of different colors to change the color. As long as it is the color that the customer wants, we can customize it.

In addition, we have greatly improved the production and dyeing speed of wigs through technological innovation, and we only need 2-4 working days to complete the production of customized wigs when customers place an order to buy enough. Customers can rest assured to buy, welcome to map customization.



This year, we have added more benefits to the original discounts. Interested customers can guess what activities we have set up this year, and welcome to leave a message in the comment area below.